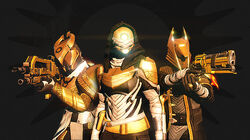 The Trials of Osiris was a Crucible event that was available every weekend from Friday at 10 AM PST to the Weekly Reset on Tuesday.[1] The Destiny expansion Rise of Iron was required to participate.
The final Trials of Osiris event for Destiny took place on August 14, 2017.[2]
Trials of Osiris used the Elimination gametype. Entrance into the Trials required a Trials Passage, which could be purchased from Brother Vance[1] for 500 Glimmer. Once a Trials Passage accumulated three losses, the Passage would no longer grant admission to the Trials. In order to continue competing in the Trials of Osiris, a new Trials Passage would need to be purchased.[1] If a Guardian quit or disconnected from a match before it is completed, a loss was added to the Trials Passage.[1] By inspecting their Trials Passage, Guardians could spend Passage Coins to purchase modifications to their Passage that would aid in obtaining the most wins possible.[citation needed]
Level advantages were enabled, and teammate matchmaking was disabled, so Guardians would need to form their own fireteams.[1] Teams were matched against each other depending on connection[3] and number of wins on the Trials Passage.[citation needed]
Each match would of took place on the same map in a given week. The map changed every week.[1]
List of Rewards
Edit
One of the following armor pieces would drop as an end-of-match reward on the fifth win on a Trials Passage once per week per Guardian:
Titan
Hunter
Warlock
One of following weapons would drop as an end-of-match reward on the seventh win on a Trials Passage once per week per Guardian:
The following items had a chance to drop as end-of-match rewards:
The Lighthouse
Edit
Guardians who accumulate nine wins and zero losses on a single Trials Passage would be able to travel to The Lighthouse, a location on Mercury that contains exclusive loot. Opening the chest at The Lighthouse would reward the following:
References
Edit
↑ 1.0 1.1 1.2 1.3 1.4 1.5 (2015) YouTube: Trials of Osiris Reveal Archive 44:50. Retrieved May 1, 2015.
↑ Dague, David. (2017) "This Week At Bungie – 06/22/2017". Bungie. Retrieved July 14, 2017.
↑ (2015) YouTube: Destiny House of Wolves: Trials and Crucible Additions and Corrections 0:15. Retrieved May 1, 2015.
External Links
Edit