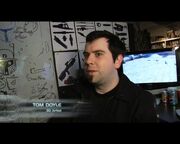 Tom Doyle is a long-time Bungie 3D artist[1][2] and is the Art Lead on Destiny.[3]
Doyle came to Bungie from Volition in 2004 as a 3D artist. After working on the hit Halo games, Doyle turned his attention to the Destiny project, where he is Art Lead and is quoted frequently in interviews about the design of elements of the game.[3]
References
Edit
↑  "Meet the Team: Tom Doyle". Bungie Inc.. Retrieved 24 Sep. 2013.
↑  "Tom Doyle on LinkedIn". LinkedIn.com. Retrieved Sep. 24, 2013.
↑ 3.0 3.1 Dague, David. (2013-09-18) "Destiny Drawing Board: Thunderlord". Bungie Inc.. Retrieved 24 Sep. 2013.
Ad blocker interference detected!
Wikia is a free-to-use site that makes money from advertising. We have a modified experience for viewers using ad blockers

Wikia is not accessible if you've made further modifications. Remove the custom ad blocker rule(s) and the page will load as expected.