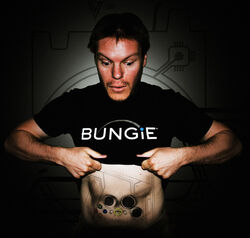 Sam Jones is a long-time Bungie employee and is a Lead Environment Artist for the Moon and Mars locations in Destiny.[1][2][3] He left Rare Ltd. to join Bungie in 2006 as an environment artist working on Halo 3, and has continued to help create environment art in all subsequent Bungie games since.[1]
In interviews, Jones has described his responsibilities as both managing (by helping other artists complete their work and fulfill their careers)[4] and acting as a production artist and "environment overlord," a position that requires him to be integrated deeply with other departments such as design, concept, and audio.[3] He elaborated, noting that his art production responsibilities in production art include "'massing out' spaces (making the earliest possible 3D representation of a level) and moving these through 'architecting' (making the missions more functional in engine and better to play as well as look at), then finally 'finishing' them (polish and bugs)."[4]
Jones has been interviewed several times about his own career as well as environment art in Bungie games,[2][4][5] He has stated that "both sides of my job are just as much fun as each other" and that he is "still loving every second of it."[4]
References
Edit
↑ 1.0 1.1  "Sam Jones on LinkedIn". LinkedIn.com. Retrieved 7 Oct. 2013.
↑ 2.0 2.1 Dague, David. (2013-10-4) "Bungie Weekly Update, Oct. 4, 2013". Bungie Inc.. Retrieved 7 Oct. 2013.
↑ 3.0 3.1 (2013-10-25) Bungie.net: The Bungie Podcast, October 25, 2013 11:00-13:00. Retrieved 5 Nov. 2013.
↑ 4.0 4.1 4.2 4.3 Osborne, Eric. (2009-05-21) "Broken In - Sam Jones". Bungie Inc.. Retrieved 7 Oct. 2013.
↑ (2010-12-2) Bungie.net Archives: Bungie Podcast - Noble Map Pack Edition Retrieved 7 Oct. 2013.