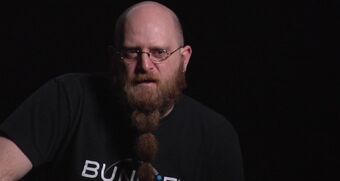 Sage Merrill is a Bungie employee and the Gameplay Design Lead for Destiny. Merrill was previously the Sandbox Design Lead for Halo: Reach, and before that worked as a game designer for Microsoft and Day 1 Studios.[1]
Merrill first became well-known among Bungie fans after appearing in Bungie ViDocs leading up to the release of Halo: Reach, where he was noticed for his long beard and because of the joke, "Don't tell Sage; he'll nerf it!" in regard to overpowered elements in early builds of Reach.[2]
References
Edit
↑  "Sage Merrill on LinkedIn". LinkedIn.com. Retrieved Aug. 27, 2013.
↑ (2010-04-15) YouTube: Halo: Reach Carnàge Carnivàle 2:45. Retrieved Aug. 27, 2013.