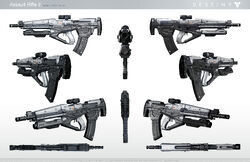 Pulse rifles are a class of primary weapons in Destiny characterized by burst-fire mechanisms and medium-range effectiveness.
Pulse rifles typically fire in three-round bursts. Häkke pulse rifles fire in four-round bursts, but the four rounds together do roughly the same amount of damage as a three-round burst.[1]
Archetypes
Edit
The following table illustrates the performance of each pulse rifle archetype in the Crucible:[2][3]
Archetype
Damage Per Hit
Time-to-Kill (seconds)
Crit
Body
Crit
Body
High-Impact
33
22
1.14
1.34
Medium-High-Impact
30
20
1.00
1.50
Medium-Low-Impact
25
17
0.92
1.42
Low-Impact
24
16
0.93
1.60
High-Impact (Häkke)
26
18
0.73
1.33
Medium-High-Impact (Häkke)
21
14
1.14
2.01
References
Edit
↑ Dague, David. (2015) "Bungie Weekly Update - 07/23/2015". Bungie. Retrieved July 24, 2015.
↑ Reddit "In-depth weapons sats spreadsheet 2.0 (Time To Kill, Damage, RPM), featuring all new weapons from The Taken King Expansion!". Retrieved June 12, 2016.
↑ Reddit "Mercules' Massive Breakdown Weapon Stats Spreadsheet, Including Stats and Times-to-Kill". Retrieved June 12, 2016.
Ad blocker interference detected!
Wikia is a free-to-use site that makes money from advertising. We have a modified experience for viewers using ad blockers

Wikia is not accessible if you've made further modifications. Remove the custom ad blocker rule(s) and the page will load as expected.