As the date of Destiny's announcement (17 Feb. 2013) approached, Bungie and Activision began distributing promotional materials to retailers and gaming media. As a result, numerous posters and images began to be "leaked" on social and fan sites. Below is a collection of early leaks.
Preorder Poster
Edit
An article posted on Joystiq.com showed images of a two sided Destiny poster that arrived at GameStop. The public will be able to get it if they preorder the game.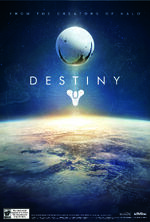 The front of the poster says "From the creators of Halo" and shows in the bottom corner that the game is still "Rating Pending." It features the Traveler above the planet with the Destiny logo and name.
The back displays an image of an unknown alien and logo. The word 'Fallen' is written on the left.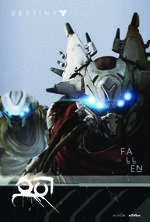 The article on Joystiq can be found here.
Preorder Card
Edit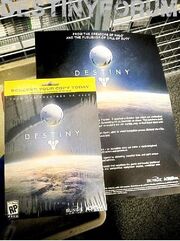 In another leaked photo, a small Destiny poster can be seen which clearly states that the game will have an incredible story, unique
vehicles
and will also have competitive multiplayer with social activities.
In front of that seems to be a pack of Destiny Pre-order posters/cards. The minimum order is a $5 deposit. The artwork could very well be the Box Art.
The image was found on destinyforum.net.
Game for Preorder
Edit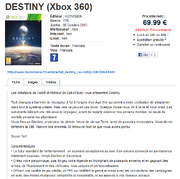 Destiny preorder information was uploaded to a
French website
two days early. The site states that the game will be released on the 6th of October 2013. The rest of the information was in French, but translates to the following:
The creators of Halo® and the publishers of Call of Duty bring you Destiny.
Everything changed with the arrival of the [Traveler]. It began with a Golden Age that allowed our civilization to establish itself in the solar system. But this could not last. Something pushed us back to earth and broke us. The survivors built a city under the [Traveler] before returning to explore our old worlds where only mortal enemies were waiting.
You are a Guardian, protector of the last haven of life on Earth, armed with incredible powers. You must defend the city. Defeat our enemies. And take back what we have lost.
Be strong.
characteristics:
The future standard of entertainment: a unique scenario in an all new permanently connected world, full of action and adventure.
Create your character, then forge your legend by defeating powerful enemies and gaining weapons, equipment and vehicles, all unique and customizable.
Offering a unique variety of game - a shooter that redefines the genre and breaks with the conventions of solo campaigns, competitive and cooperative multiplayer modes, and associates them with your social networks.
Destiny Artwork
Edit
A few hours before the reveal on the 17th, over 10 Destiny artwork images were tweeted via twitter. Most had been posted by @DestinyTips and @MoreConsole. The images originated from a forum post on NeoGAF.