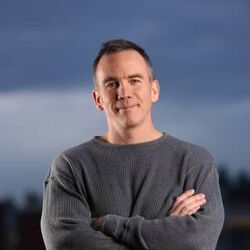 Pete Parsons is a long-time Bungie executive, current Chief Executive Officer (CEO) of Bungie,[1] and member of the Bungie Board of Directors.[2]
Parsons came to Bungie from Microsoft in 2002 as an executive producer and studio manager. After working on the hit sequels Halo 2 and Halo 3, Parsons had a brief stint as an executive producer for Microsoft before joining Bungie's spinoff from Microsoft (along with most of the rest of Bungie) to become an independent developer.[2]
While at Bungie, Parsons also co-founded a company in 2007 called Meteor Solutions which provides a variety of social marketing services to large companies like Microsoft, AT&T, and MTV Networks. As of November 2012, Parsons left Meteor Solutions to focus on Bungie full-time.[2]
Parsons is a frequent interviewee for video game news sites and other media regarding Destiny, and speaks of the company's vision for and design of the franchise.[3]
References
Edit
↑ Bungie (2016) "Bungie Studio News". Bungie.net. Retrieved January 28, 2016.
↑ 2.0 2.1 2.2  "Pete Parsons on LinkedIn". LinkedIn.com. Retrieved Aug. 26, 2013.
↑ Brightman, James. (2013-08-26) "Bungie: Destiny can surpass Halo, sit alongside Star Wars". GamesIndustry.biz. Retrieved Aug. 26, 2013.
Ad blocker interference detected!
Wikia is a free-to-use site that makes money from advertising. We have a modified experience for viewers using ad blockers

Wikia is not accessible if you've made further modifications. Remove the custom ad blocker rule(s) and the page will load as expected.