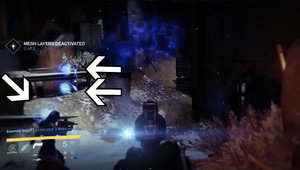 Orbs of Light are glowing balls of energy generated by other Guardians when they use their super abilities.[1] Orbs can be picked up by any other player in the Fireteam, as well as any other Guardians in the area, and provide a large boost to a player's super ability recharge meter.[1] The super ability recharge boost when the player picks up an Orb appears to be larger than the boost that players receive from kills, time, or other actions.[1] Orbs of Light are a cooperative gameplay mechanic designed to encourage players to play in Fireteams and reward them for working together.[2]
References
Edit
↑ 1.0 1.1 1.2 (2014-04-28) YouTube: Official Destiny Strike Gameplay: The Devil's Lair 3:45. Retrieved 2014-05-02.
↑ Dague, David. (2014-04-11) "Bungie Weekly Update - 4/11/2014". Bungie. Retrieved 2014-05-05.
Ad blocker interference detected!
Wikia is a free-to-use site that makes money from advertising. We have a modified experience for viewers using ad blockers

Wikia is not accessible if you've made further modifications. Remove the custom ad blocker rule(s) and the page will load as expected.