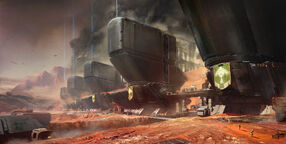 The Mars Exclusion Zone is a complex of ruins in the depths beneath the Dust Palace on Mars occupied by the Cabal.[1] It hosts a bounty of gold within the Charlemagne's Vault, a chamber in the far reaches of its ruins.[1][2] Players can complete bounty missions commissioned by Queen Mara Sov.[2]
References
Edit
↑ 1.0 1.1 McCaffrey, Ryan. (2013) "Bungie's Destiny: A Land of Hope and Dreams". IGN. Retrieved 20 February 2013.
↑ 2.0 2.1 McWhertor, Michael. (2013) "Destiny: Bungie's Brave New Worlds". Polygon. Retrieved 19 February 2013.
Ad blocker interference detected!
Wikia is a free-to-use site that makes money from advertising. We have a modified experience for viewers using ad blockers

Wikia is not accessible if you've made further modifications. Remove the custom ad blocker rule(s) and the page will load as expected.