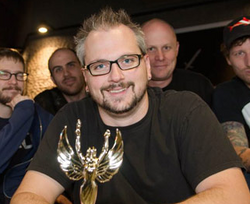 Josh Hamrick is a Bungie employee and a Senior Gameplay Designer on Destiny.[1][2] Over his career as a game designer, he has had experience in multiplayer design, user interface design, and systems design.[1]
Hamrick joined Bungie in 2009, having previously worked as a game designer at Midway Austin.[1] He is a graduate of Full Sail University with a B.S. degree in Game Design and Development.[1]
Hamrick has appeared frequently at Destiny press events and in Destiny-related media and interviews.[2][3][4][5] He is also a past winner of Bungie's internal "Weekend Champion" Destiny tournament.[2]
According to his co-workers, Hamrick won the Weekend Championship because "he makes the guns" and "screams a lot" while playing.[2]
References
Edit
↑ 1.0 1.1 1.2 1.3  "Josh Hamrick on LinkedIn". LinkedIn.com. Retrieved 14 Oct. 2013.
↑ 2.0 2.1 2.2 2.3 Dague, David. (2013-10-11) "Bungie Weekly Update - 10/11/2013". Bungie Inc.. Retrieved 14 Oct. 2013.
↑ (2013-06-16) YouTube.com: Bungie E3 2013 Day 3: Space Magic 2:22. Retrieved 14 Oct. 2013.
↑ (2013-08-22) YouTube.com: Out Here in the Wild: Official Destiny ViDoc 1:33. Retrieved 14 Oct. 2013.
↑ (2013-09-24) Bungie.net: Bungie Podcast: 10/24/2013 Retrieved 14 Oct. 2013.