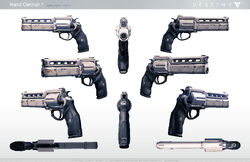 Hand cannons are a class of primary weapons in Destiny. They are capable of dealing heavy precision damage at close ranges, but very inaccurate at longer ranges.
Archetypes
Edit
The following table illustrates the performance of each hand cannon archetype in the Crucible:[1][2]
Archetype
Damage Per Hit
Time-to-Kill (seconds)
Crit
Body
Crit
Body
High-Impact
95
64
0.5-1.00[Note 1]
1.50
Mid-Impact
86
57
0.86
1.30
Low-Impact
77
51
0.73
1.09
↑

Time-to-kill varies depending on the opponent's Armor attribute. Guardians with more than 190 HP will take one more shot to kill.
References
Edit
↑ Reddit "In-depth weapons sats spreadsheet 2.0 (Time To Kill, Damage, RPM), featuring all new weapons from The Taken King Expansion!". Retrieved June 12, 2016.
↑ Reddit "Mercules' Massive Breakdown Weapon Stats Spreadsheet, Including Stats and Times-to-Kill". Retrieved June 12, 2016.
Ad blocker interference detected!
Wikia is a free-to-use site that makes money from advertising. We have a modified experience for viewers using ad blockers

Wikia is not accessible if you've made further modifications. Remove the custom ad blocker rule(s) and the page will load as expected.