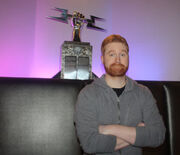 Eric Osborne, more commonly known as "Urk," is Bungie's Community and Marketing Relations Manager.[1] Osborne moved from St. Louis to Seattle to join Bungie in 2008,[1][2] where his initial position with Bungie as a writer and community developer caused him to interact frequently with Bungie's fan community.[1] As a result, Osborne became well-known among the fan community for his humorous articles, posts, and other interactions.
Osborne is a writer at heart and writes for some of Bungie's marketing pieces, but also leads Bungie's public relations efforts; he is frequently seen in interviews, conferences, and expos where Bungie is present.[1][2]
References
Edit
↑ 1.0 1.1 1.2 1.3  "Eric Osborne on LinkedIn". LinkedIn.com. Retrieved 4 Apr. 2014.
↑ 2.0 2.1 Osborne, Eric. (2008-10-22) "St. Louis to Seattle: Urk's Tale, 10/22/2008". Bungie Inc.. Retrieved 4 Apr. 2014.