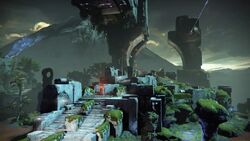 The Endless Steps is a Vex ceremonial site located under The Citadel in the Ishtar Sink on Venus. Although its true purpose and significance are unknown, it features an enormous teleporter that allows for endless armies of Vex to come through.[1]
Connections
Edit
References
Edit
Ad blocker interference detected!
Wikia is a free-to-use site that makes money from advertising. We have a modified experience for viewers using ad blockers

Wikia is not accessible if you've made further modifications. Remove the custom ad blocker rule(s) and the page will load as expected.