For the strike, see Dust Palace (Strike).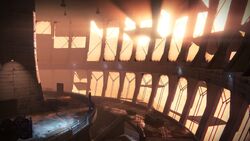 The Dust Palace is an area in Meridian Bay on Mars largely occupied by the Cabal.[1][2] It was once an industrial facility used by Clovis Bray for manufacturing and scientific research.
Connections
Edit
There are two independent paths from The Hollows into the Dust Palace, which lead to opposite ends of the same interior room.
One of the Golden Loot Chests can be found in this area.
References
Edit
↑ Kotaku "Everything I Know About Bungie's Next First-Person Shooter, Destiny". Retrieved 05 Dec. 2013.
↑ Polygon "Destiny: Bungie's Brave New Worlds". Retrieved 05 Dec. 2013.
Ad blocker interference detected!
Wikia is a free-to-use site that makes money from advertising. We have a modified experience for viewers using ad blockers

Wikia is not accessible if you've made further modifications. Remove the custom ad blocker rule(s) and the page will load as expected.