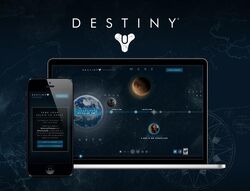 The Destiny Selfie was a marketing campaign launched by the game's publisher Activision that asked Destiny fans to tweet a selfie to @DestinyTheGame with the usage of the hashtag, #DestinySelfie, with these selfies then being turned into signals which a "deep space satellite [would] broadcast into outer space," a signal that fans could monitor the status of online at destinyselfie.com. The campaign formally commenced with a selfie taken by hip-hop icon Snoop Doog,[1] and continued during the week of E3 2014, and was used to generate hype for the game during the annual trade expo. Professional basketball players James Harden and Bradley Beal also tweeted a selfie of themselves for the campaign.[2][3]
The deadline for selfies to be sent to the game's Twitter handle, and onto space, was June 13, 2013, at exactly 7pm PST. The main website, destinyselfie.com, ceased to track the progress of selfies sent into space, but promised that "the ultra-slow degrading nature of our analog signal means that you selfie will live on for thousands of years. You'll become a legend in the stars."
References
Edit
↑ @SnoopDogg (June 10, 2014) "SnoopDogg: My #DestinySlefie goin where ...". Twitter. Retrieved June 28, 2014.
↑ JHarden13 (June 10, 2014) "JHarden: .@DestinyTheGame Houston we ...". Twitter. Retrieved June 28, 2014.
↑ @RealDealBeal23 (June 10, 2014) "RealDealBeal23: @DestinyTheGame This Selfie". Twitter. Retrieved June 28, 2014.
Ad blocker interference detected!
Wikia is a free-to-use site that makes money from advertising. We have a modified experience for viewers using ad blockers

Wikia is not accessible if you've made further modifications. Remove the custom ad blocker rule(s) and the page will load as expected.