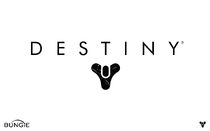 Destiny is an open-world first-person sci-fi shooter franchise created and owned by Bungie and published by Activision.[1][2] The series is planned to have four games, with several major DLC expansion packs – referred to as "Comets" – being released between games.[2] The first game of the series, Destiny, released on 9 Sept. 2014 for PlayStation 3,[3] PlayStation 4,[4] Xbox 360,[3] and Xbox One[5] consoles. During Sony's PlayStation 4 reveal conference, Activision announced that Destiny will launch with "exclusive playable content" on Sony's PlayStation platforms.[6]
Announcement
Edit
Initial reports of Bungie's work on Destiny was hinted at as early as February 2011, when rumors from a "fired contractor" spread that Bungie was working on an untitled, science-fiction, massively multiplayer first-person shooter.[7] Other pre-announce information prior to February 2013 revealed further details, and in November 2012, Bungie finally acknowledged its development of the Destiny series.[8]
Bungie and Activision officially announced the Destiny series on February 13, 2013 in a joint press conference and in an Activision press release.[1] On the same day, they released a trailer and video documentary revealing the game.
The Destiny story begins about 700 years in the future, following a horrific cataclysm sometime in the past that left our solar system littered with the remains of humanity's Golden Age. A gigantic spherical entity now hovers in geostationary orbit above humanity's last remaining city, its origin and purpose unknown. Known only as The Traveler, very little is known about the mysterious orb - only that it is our protector.[2] In the many years following the fall of mankind's system-spanning empire, mysterious extraterrestrial species have crept into the galaxy from the far reaches of the universe, taking up residence in the derelict remains of former human territory. These forces are determined to take Earth and The City. Players will assume the role of Guardians, tasked with the protection of humanity, the reclamation of captured territory, and stopping the advancement of forces bent on the destruction of man.[2]
Platforms, Release Dates, and Installments
Edit
Destiny will be available for a number of platforms, including the PlayStation 3, PlayStation 4, Xbox 360, and Xbox One. There has been no confirmation regarding on which platforms future games will be launched.
The first installment of the series is set to be released on 9 Sept. 2014 for both current and "next-gen" generation platforms.[1][9] A PC version has yet to be confirmed by developer Bungie, but it says that it hopes to "talk more about this" in the future.[2]  Later sequels to Destiny are currently planned to be launched every two years following the launch of Destiny, with major downloadable expansion packs called Comets planned to be released one year after the launch of each game.[10]
↑ 1.0 1.1 1.2  (2013-02-13) "The Creators of Halo® and the Publisher of Call of Duty® Unveil DestinyTM". Activision Inc.. Retrieved Sep. 5, 2013.
↑ 2.0 2.1 2.2 2.3 2.4 Goldfarb, Andrew. (2012) "Bungie's Destiny Story Details, Concept Art Leaked". IGN. Retrieved 19 December 2012.
↑ 3.0 3.1  (2013) "Where to Buy Destiny". Activision, Inc.. Retrieved July 21, 2013.
↑  (2013) "Destiny Announced for PlayStation 4". Bungie Inc.. Retrieved July 21, 2013.
↑  (2013) "Destiny Announced for Xbox One". Bungie Inc.. Retrieved July 21, 2013.
↑ Santos, Alexis. (2013-02-20) "Bungie's Destiny headed to the PlayStation 4 with exclusive content". Engadget.com. Retrieved Sep. 4, 2013.
↑ Robinson, Martin. (2011) "Bungie's Next Game Detailed by Reports". IGN. Retrieved 19 December 2012.
↑ Dague, David. (2012-11-27) "Well, that just happened... again". Bungie Inc.. Retrieved Sep. 5, 2013.
↑ Bungie.net "Destiny Launch Date". Retrieved 07 Dec. 2013.
Ad blocker interference detected!
Wikia is a free-to-use site that makes money from advertising. We have a modified experience for viewers using ad blockers

Wikia is not accessible if you've made further modifications. Remove the custom ad blocker rule(s) and the page will load as expected.