Destiny
Talk

0
229pages on
this wiki
Destiny
Destiny is an upcoming video game being developed by Bungie and published by Activision. Destiny is confirmed for the PlayStation 3,[4] PlayStation 4,[5] Xbox 360,[4] and Xbox One[6] consoles. It is scheduled to be released on 9 Sept. 2014[3]
Pre-Reveal
Edit
The Destiny trademark was registered on 20 July 2009 by Podophobia Entertainment, a privately held company thought to be a Bungie affiliate (the company's registration documents with the state of Washington name Harold Ryan and Martin O'Donnell as its owners).[7] The trademark has since been assigned to Bungie.[8] The Destiny logo's trademark description refers to it as the logo for "computer game software downloadable from a global computer network," and was extended by Bungie in March 2011 and April 2013.[8]
Within Bungie, the project's codename prior to reveal was "Tiger."[9] For months, Bungie itself was silent as to the title of its new project, but on 10 Feb. 2013, confirmed the name "Destiny" via a news post on its front page.[10]
On 17 Feb. 2013, in coordination with a media blitz, Bungie and Activision officially revealed Destiny through a video documentary and reveal trailer entitled Pathways Out of Darkness.
On 7 Dec. 2013, Bungie announced that Destiny is scheduled to launch on 9 Sept. 2014.[3]
Franchise and Launch Information
Edit
According to a contract between Bungie and Activision, the Destiny series will be a series of at least four massively multiplayer online (MMO) sci-fantasy action shooter titles, with the first game to be launched simultaneously on PlayStation 3, PlayStation 4, Xbox 360, and Xbox One consoles.[11] At Sony's PlayStation 4 reveal event in February 2013, Bungie and Activision also announced that Destiny will launch with "exclusive playable content" for Sony platforms.[12] Destiny has not been announced for any other platform, and Bungie has stated that developing the game for other platforms would spread the company too thin (though it has not ruled out the possibility of a launch on PC at some point in the future).[13][14]
Though the launch date was originally expected to be in Q3/Q4 2013,[11] the title was excluded from Activion's 2013 lineup.[15] On 18 Feb. 2013, Activision stated through a press release that "Activision has not included the launch in its 2013 outlook and there should be no speculation or expectation of a different result."[15] Since then, Bungie has confirmed a public beta in the summer of 2014 and Destiny's launch sometime thereafter in 2014,[16] and has been stated as 9 Sept. 2014.
Despite Destiny being a persistent world game with MMO elements, both Bungie and Activision have affirmed that there will be no subscription fee.[17][18] There has been no confirmation either way about the presence of microtransactions in-game, but Bungie has stated that even if microtransactions are present, they will not be "pay-for-power" or "nickel and dime" schemes that confer an advantage upon players that pay extra.[13]
Destiny's Story and Universe
Edit
The stories tell of a golden age long ago, when our civilization spanned the system. It was a bright and hopeful time. But it didn't last.

Something hit us. Knocked us down and tried to stamp us out. No one knows exactly what, but we do know this: very few of us survived, and those that did owe their lives to the The Traveler.

Legends say The Traveler sacrificed itself to save us. The mysterious sphere still hangs where it made its last stand, low above the Earth, keeping silent watch.

The years that followed the collapse of the golden age were hard, but slowly we joined together to build a city beneath The Traveler. And now we've begun to venture back into the wild, only to find that we're not alone. Strange and deadly creatures have occupied our old worlds. And they're pressing hard against The City, probing for a weakness, trying to stamp us out for good.

Your story begins at this moment of great adventure and peril. You are a

Guardian

of The City; a soldier able to wield some of The Traveler's incredible power. If you can find a way to save The City -- to reclaim all that we have lost -- you will become legend. If you fail, the last light of civilization will go out.

[19]

For more information, please visit our article on Destiny's Story.
Style and Genre
Edit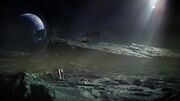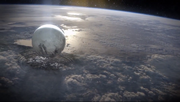 Gameplay Mechanics
Edit
Please view our main article on Gameplay.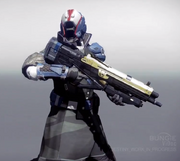 Characters and Species
Edit
Please view the following articles for more information:
Locations
Edit
Please view the following articles for more information: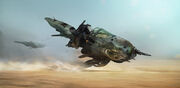 Vehicles, Weapons, and Armor
Edit
Please view the following articles for more information:
Pre-Announcement Information from Third Parties
Edit
Please view our disambiguation page for pre-announcement information from third parties.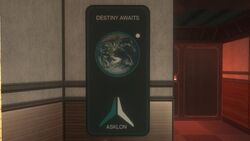 Destiny was teased in Bungie's game Halo 3: ODST, over three years before Destiny's official announcement.[22] Former Bungie employee Vic DeLeon responded "IT'S FINALLY BEEN FOUND!" when a screenshot of the teaser surfaced online.[23]
Destiny is unconnected with Bungie's independent publishing venture Bungie Aerospace.
Podophobia Entertainment also registered the trademark "Be Brave". Whether this is going to be the name of the next game in the Destiny series, or a whole other project entirely, is unknown.
References
Edit
↑ Hicks, John. (Apr. 17, 2011) "Destiny: Bungie talks character load-outs, the Grognok engine and mapping the solar system". Official Xbox Magazine. Retrieved 28 July 2013.
↑  (18 Mar. 2013) "GDC'13:Umbra 3 Powering Up Destiny's World Creation and Rendering". Umbra Software, Inc.. Retrieved 29 July 2013.
↑ 3.0 3.1 3.2 Bungie.net "Destiny Launch Date". Retrieved 07 Dec. 2013.
↑ 4.0 4.1  (2013) "Where to Buy Destiny". Activision, Inc.. Retrieved July 21, 2013.
↑  (2013) "Destiny Announced for PlayStation 4". Bungie Inc.. Retrieved July 21, 2013.
↑  (2013) "Destiny Announced for Xbox One". Bungie Inc.. Retrieved July 21, 2013.
↑ Gaweda, Sebastian. (20 May. 2011) "Trademark Confirms Bungie's Next Title Is "Destiny"". Gamerant.com. Retrieved July 26, 2013.
↑ 8.0 8.1  (July 20, 2009) "[DESTINY by Bungie Inc. Trademark Information". Trademarkia.com. Retrieved July 26, 2013.
↑ (3 Aug. 2011) YouTube.com: O Brave New World 53:45. Retrieved July 26, 2013.
↑ Dague, David. (February 10, 2013) "Follow Your Destiny". [http://www.bungie.net Bungie.net. Retrieved July 26, 2013.
↑ 11.0 11.1  (April 16, 2010) "Bungie-Activision Software Publishing and Development Agreement". L.A. Times. Retrieved July 26, 2013.
↑ Santos, Alexis. (Feb. 20, 2013) "Bungie's Destiny headed to the PlayStation 4 with exclusive content". Engadget.com. Retrieved Sep. 4, 2013.
↑ 13.0 13.1 Karmali, Luke. (31 Oct. 2013) "Destiny Devs Talk Space Travel, PC, And Microtransactions". IGN.com. Retrieved 15 Nov. 2013.
↑ Makuch, Eddie. (17 June 2013) "Bungie says lack of Destiny on PC "painful" for gamers". Gamespot.com. Retrieved 15 Nov. 2013.
↑ 15.0 15.1 15.2  (Feb. 18, 2013) "The Creators of Halo® and the Publisher of Call of Duty® Unveil DestinyTM". Activision. Retrieved July 26, 2013.
↑ Dague, David. (14 Nov. 2013) "Celebrating the PS4 Launch". Bungie.net. Retrieved 15 Nov. 2013.
↑ 17.0 17.1 17.2 17.3 17.4 Amini, Tina. (Feb. 17, 2013) "Everything I Know About Bungie's Next First-Person Shooter, Destiny". Kotaku.com. Retrieved July 26, 2013.
↑ Peterson, Steve. (Feb. 17, 2013) "Bungie's Destiny: "Absolutely no plans to charge a subscription fee"". GamesIndustry.biz. Retrieved July 26, 2013.
↑ 19.0 19.1 (Feb. 17, 2013) YouTube.com: Reveal Trailer - Official Destiny ViDoc: Pathways Out of Darkness Retrieved July 26, 2013.
↑ 20.0 20.1 20.2 Makuch, Eddie. (Feb. 17, 2013) "Bungie's Destiny a "Shared-World Shooter"". Gamespot.com. Retrieved July 26, 2013.
↑ McWhertor, Michael. (Feb. 17, 2013) "Bungie Composer Marty O'Donnell on the Music of Destiny, Collaborating with Paul McCartney". Polygon.com. Retrieved July 26, 2013.
↑ Bungie (2009) [[Halo 3: ODST]] Xbox 360, Bungie.
↑  (29 Nov. 2012) "@vicdeleon on Twitter". Twitter. Retrieved 15 Nov. 2013.