Awoken
Talk

1
643pages on
this wiki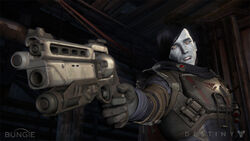 The others sing this song of Light and Dark. We, together, have transcended such unimaginative limitations.

[1]

(bad source, needs revision)
The Awoken are an ethereal, bluish-gray-skinned player species in Destiny. They have been described by Bungie as "exotic, beautiful, and mysterious."[2]
It is said the Awoken were born in the Collapse, descended from those who tried to flee its wrath.[1] Something happened to them out on the edge of the deep Black, and they were forever changed.[1] Today many Awoken live in the Reef, aloof and mysterious, but others returned to Earth, where their descendants now fight for the City.[1] Earthborn Awoken sometimes venture out to the Reef, hoping to learn its secrets - but find no special welcome from the reclusive Queen.[1]
Notable Awoken
Edit
In addition to being a playable species, some non-player characters are also Awoken. An unnamed Awoken character was shown in the E3 2013 gameplay reveal trailer.[3] The character brandished a hand cannon at a Warlock and spoke with a flanged voice.[3]
Design and Inspiration
Edit
In terms of player design, Bungie drew its inspiration for the Awoken from mythological creatures such as elves, vampires, ghosts, and angels.[2]
References
Edit
↑ 1.0 1.1 1.2 1.3 1.4 (2013 July 02) YouTube.com: Destiny News - Grimoire Cards Explained! 2:01. Retrieved 05 July 2014.
↑ 2.0 2.1 GDC 2013 Panel; 39:05. Retrieved on 14 Oct. 2013
↑ 3.0 3.1 (2013-07-3) YouTube.com: Official Destiny Gameplay Reveal Video 11:28. Retrieved 14 Oct. 2013.